3-wire waterproof connector
The 3-wire waterproof connector is a commonly used waterproof connector. It has 3 terminals, namely L, N and G. The L terminal is used to connect the live wire, the N terminal is used to connect the neutral wire, and the G terminal is used for grounding. Wire. This kind of connector is usually used for circuit connection of electrical equipment, which can effectively prevent moisture and moisture from entering the circuit, thereby ensuring the safety and reliability of electrical equipment.
3 wire waterproof connector manufacturer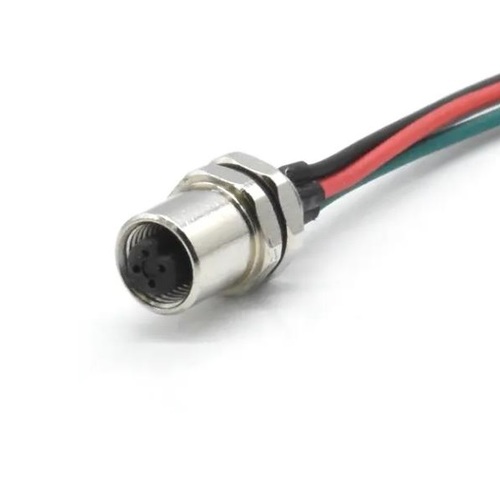 M5 A code Female Panel front mount Connector solder contacts
Screw lock, easy installation
Contacts: 3pin, 4pin
Protection level IP67
Solder with single wires
RoHS, REACH compliant
FlexContac Technology Co., Ltd has been developing, producing and marketing industrial connectors and cable assemblies as well as customized wiring harnesses. Our high-tech experts and engineering teams are dedicated to providing interconnected solutions of structure design services, Pro/E 3D design services, CAD design services. Manufacturing service from prototype to mass production. Flexcontac is able to work flexible to manager small to medium high-mixed batches. Production facility located in Dongguan City, in southern China, about 1500㎡ with modern machine and equipment, management base on ISO9001:2015.




Products are used in automation, telecommunications and energy technology, railway systems, agriculture and medical technology, and the aviation industry. In addition to a variety of connectors for all current standards, our particular strength is the integrated molding of components and assemblies and the development of customized solutions.
Manufacturers of 3-wire waterproof connectors include Yueqing Hengbang Electric Co., Ltd., Wenzhou Aodu Electric Co., Ltd. in Guangling District, Yangzhou City, Jiangsu Province, Ingram Electronics Co., Ltd. City Weilianchuang Electronics Co., Ltd., Zhejiang Yueqing Yingmai Electronics Co., Ltd., Xisim Technology, etc.