General Data














Material Data














Product type

M16 Field Attachable Connectors






Insulator material

PA66, UL94

Standard

IEC61076-2-106

Insulator color

Black

Coding

B

Housing material

Brass with nickle plating

Gender

Female

Coupling nut /-screw material

Brass with nickle plating

IP range

IP67

Signal contact material

Brass with gold plating

Locking type

Screwable

Sealing material

Silicone

Mounting type

Straight






Assembly type

field assembly






Technical Data




























Shielding

Shielded






Cable Jacket

PVC / PUR

working temperature

-25° C ~ 80° C






Mating cycles

>=500

Insulation resistance

>=100M Ohm






Cable Flamability

VW-1

Contact resistance

<=5M Ohm






Cable color

Black

Application

Sensor/ Actuator






Compliance

Rohs






Electrical Specs




























Contacts No.

5

7

14






















Rated Voltage

60V

60V

60V






















Rated Current

5A

5A

3A






















Wire Gauge(AWG)

18

18

24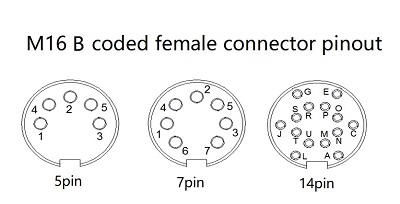 M16 Series Features
Due to continuous development and improvement, the M16 connector is currently the best option for designers searching
for a reliable, cost-effective screw-locking connector that can allow up to 24 contacts with or without EMI shielding.
This connector style combined durable design and excellent environmental resistance, which make the M16 becoming
widely used in equipment, measurement, and sensors for interior use with higher pin count requirements than M8 and M12
sensor connectors. Pneumatic controls, gas and pressure measurement, torque sensors, and motor speed regulators
are some of the other applications.
A variety of options for cable connecting type with straight or right-angled connectors which are terminated by soldering,
with screws and crimp. Overmoulded cables are optional, and panel mount type with front or rear fastening as standard
for solder contact versions and front fastening for dip solder contacts to PCBs are also available.
M16 series highlights:
Pin count: 2 to 24
Mating cycles: >500
Degree of protection: IP67
Suitable for 5G network, AISG C485 compliant
Data transmission up to 10Gbits/s
Termination: solder or crimp
Locking technology: screw lock
Shielding: 360 degree available