The M16 circular connector is a mini DIN connector with small dimensions, Pinout from 2pin to 24pin, and screw locking according to IEC 61076-2-106 standard. They're straight, right angle, and flange types which can reach IP67 protection level, Available with PCB dip solder contact, screw contact, solder contacts, and pre-molded cable, Solder contact max wire diameter is 0.75 mm2 or AWG 18 (2 to 8 pins) and 0.25 mm2 or AWG 24 (12 to 24 pins), Rated voltage 32 V or 150 V, rated current 3 to 7A. mating cycles >500 times.
Below is the M16 connector pinout: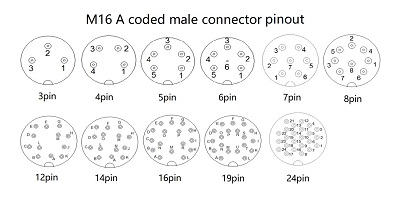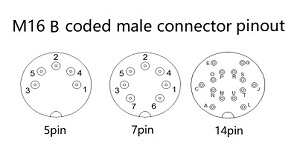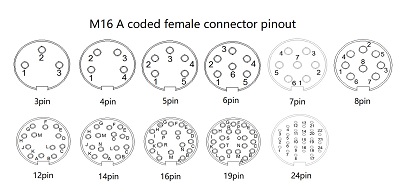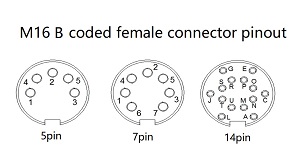 Compared to the M8 and M12, the M16 connectors can offer a larger range of pins 2-24pin, and due to the whole metal housing, there's better EMI shielding, and can transmit data up to 10Gbits/s. The M16 X-coded connector can handle the data speeds required by today's automated production equipment, with data transfer speed up to 10Gbits/s. With the growing demand for EMI shielding from equipment manufacturers, 360 degrees of shielding is required, which can be achieved by an integral shield ring that provides high attenuation over a large frequency ban.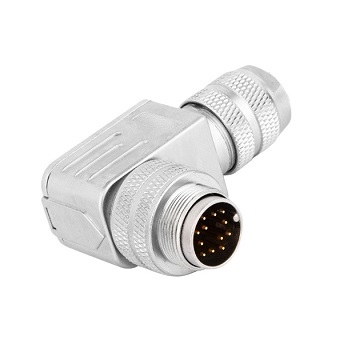 Excellent EMI shielding can ensure high-performance connections for power and signal transmission, which are applied in a wide range of heavy-duty equipment like inkjet printers, automation equipment, packaging machinery, motion control, medical equipment, and other industries. The whole-metal items are designed to comply with AISG C485, which is AISG compliant, and suitable for 5G mobile devices.
Flexcontac M16 connectors is able to meet the requirements: water, oil, temperature, hydrolysis, corrosion, abrasion and plugging resistance, as well as EMC 360 degree shielding.