What are M12 Connectors?

M12 connectors are circular connectors with 12 mm locking thread, protected against liquids and solids rated IP protection level. M12 connectors are perfect for sensors, actuators,industrial Ethernet and Fieldbus devices, mainly applied in aggressive industrial environments.
M12 connectors are IEC 61076-2-101 standard, are available in mounting types PCB mount, panel surface mount, pre-molded, and field assembly. Metal material for shells like stainless steel, brass, copper and alloys. Nowadays the 3, 4, 5, 8, 12, 17 pin connectors are available, and besides screw-locking, new locking styles such as bayonet and push-pull have been developed. Flexcontac M12 are available in shielded and non-shielded versions, straight or angled, and in different coding.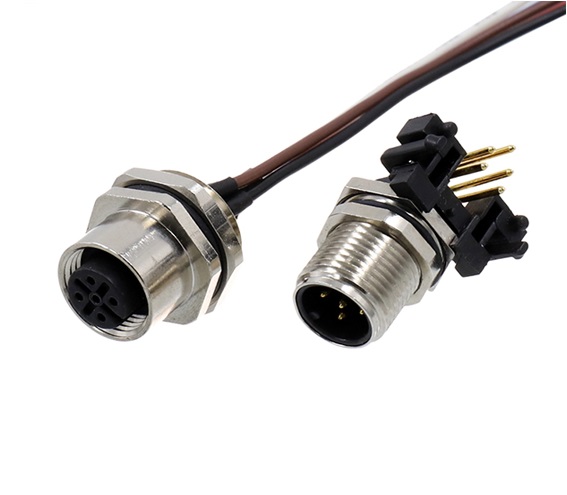 Besides industrial automation, M12 connectors and cable assemblies are applied in measurement and control, telecommunications, railway systems, robotics, agriculture, and new energy fields. The pins selection depends on the specific requirements 3 poles and 4 poles are used for sensor and actuator; 4pin and 8pin are designed for Ethernet and PROFINET; DeviceNet and CANbus generally use 4pin and 5pin; 12pin and 17pin are typically used for multi-signals application.
M12 connectors coding
M12 connectors use different codes to prevent incorrect mating, The following is a list of the codes and applications.
A code (3-17 poles): Sensor, DC power, gigabit Ethernet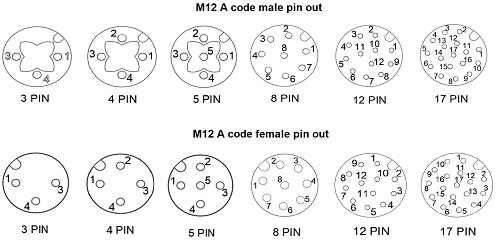 B code (4, or 5 poles): PROFIBUS and Interbus

C code (3 to 6 poles): AC power

D code (4 poles): ProfiNet, Ethernet , EtherCat application up to 100M Ethernet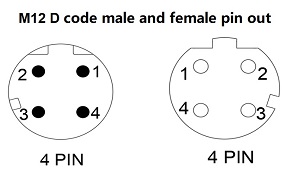 X code (8 poles) : ProfiNet, Ethernet up to 10G Ethernet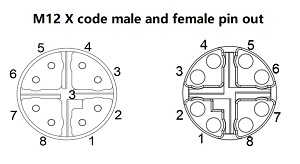 S-code (3poles [2+PE] or 4poles [3+PE]): AC power up to 630V/16 A

T code(3poles [2+PE] or 4poles [3+PE]) : DC power,up to 63V DC/16 A

K code (3poles [2+PE] or 4poles [3+PE], 5poles [4+PE]): AC power, up to 630V/16 A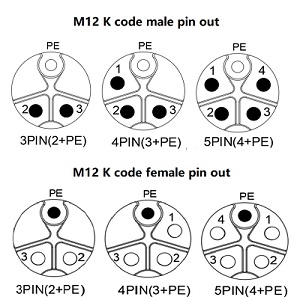 L code (3poles [2+PE] or 4poles [3+PE], 5poles [4+PE]): DC power,up to 630V/16 A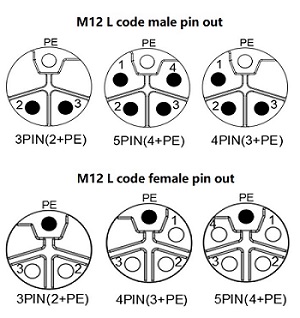 Similarities and differences between M8 and M12
The most popular industrial connectors are M12 and M8 connectors, so what are the similarities and differences between M8 and M12?
Both M8 and M12 connectors are screw locking, in addition, they have same connection types: molded type, field assembly and panel mount (including surface panel mount and PCB mount, ), can be soldered with cable or not, shielding and non-shielding, angled and straight are available.
The application areas of M12 connectors and M8 connectors are partly the same, electronic machinery, electrical systems, sensors and industrial automation and other industrial equipment, due to the harsh environment application, they have IP67 waterproof level
Firstly, the biggest difference between them is the thread, the M12 connector thread is M12 * 1, while the M8 connector thread is M8 * 1. Secondly, the number of pins, M12 pin number is more varied, from 3pin to 17pin, M8 is from 3pin to 8pin, M12 can meet multi-signal transmission. third, the application, M12 has more codings, M12 T code, S code, L code, M code, K code can be applied to AC power or DC power, D code and X code can transmit data, x code data transmission speed up to 10G Ethernet.